By Emily Wright, El Inde Arizona
After its creation last semester, AZ Pole and Aerial, the first club of its kind at the UA, is
returning for its first fall semester on campus.
Before you envision effortless showroom pole performances, consider the physical tenacity this
sport demands.
Bruises, or "pole kisses" as Rachel Davenport affectionately calls them, are souvenirs that
more experienced club members promise newcomers will experience after their first class.
Tatyana Wong, Nicole Ferguson and Davenport founded AZ Pole and Aerial last spring. The
club hosts $5 pole classes on Sundays; beginners are from 6-7 p.m. and intermediate follows
from 7-8 at Vertica Fitness, 3957 E Speedway No. 201. Davenport teaches the classes full-time.
Every week, the club distributes first-come, first-serve signups to hundreds of students
looking to explore the rewarding world of calloused hands and bruise-speckled legs that is pole
and aerial. While both captivate audiences, the grace and beauty of the art forms disguise their
intense athletic demands.
The classes fill up in a matter of minutes and many students come with the hopes of trying
something new.
"So many people come from those dance backgrounds of 'you have to be 100 pounds, this and
that,' but you don't have to be any of that here," AZ Pole and Aerial Vice President Dorie Chen
said.
Chen grew up in a strict Asian American household where sexuality and body positivity
weren't facets of her identity that she felt she could freely express.
After taking a pole class at Vertica Fitness she found the outlet she'd been looking for.
"There's no judgment, no body-shaming, no nothing," said Chen, who started pole just four
months ago and practices in seven-inch white Pleaser heels that ricochet off the pole with a
distinctive clack. "It's given me a sense of body confidence I've never had before."
"The pole bruises never end, you just find them in weirder places," said co-founder Wong,
the club's president who has been practicing pole for just under two years.
Like many of the University of Arizona students involved in AZ Pole and Aerial, Wong
comes from a strong dance background and was seeking a community to support her newfound
affinity for pole.
Alexis Garza, who serves as the social media chair for the club, echoed the rejection of
stereotypical dance environments and said she felt embraced by AZ Pole and Aerial.
"I was a dancer for 13 years, but didn't like how harsh and critical it was," Garza said.
Garza got involved with AZ Pole and Aerial after years of feeling inadequate for the
unrealistic roles prescribed by dance and searching for a sacred space to learn more about pole.
"No girl here is the same shape or size. I love how empowering it is and how good it makes
me feel," she said.
During their first class of the semester on Aug. 27, Davenport yelled over the music of Ice
Spice and Nicki Minaj to remind students of their intentions during warmup and conditioning.
"The hard things help us improve," she told the class.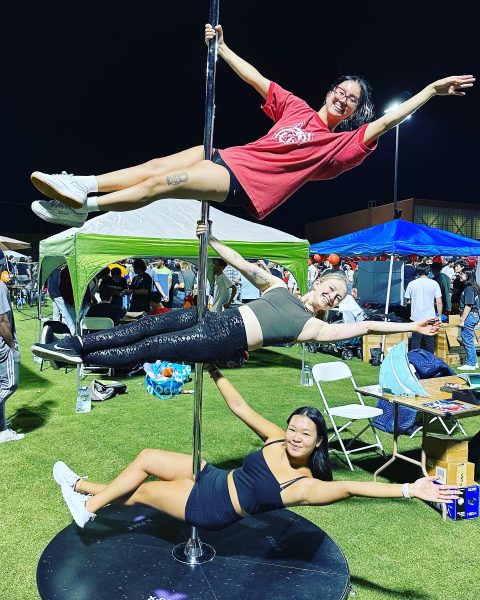 The class often erupted into cheers, encouraging both beginners attempting back hooks for the
first time and intermediate students attempting more complicated archer variations.
Wong, Chen, Garza and Davenport made it a point to shower students with compliments any chance
they could.
"It's also just a really great form of exercise," Garza said.
The club's demographic is diverse, ranging from freshmen to graduate students.
As SZA's basslines hummed throughout the room of nine floor-to-ceiling poles, the
intermediate pole class came to an end by exploring their individual flows.
Davenport encouraged students to submit feedback on their desired skills to better tailor the
direction of class.
This semester, the club also is offering its first aerial silks dance classes for $5 from 3-4 p.m.
Sundays at Circus Sanctuary, an acrobatic arts space at 2706 N Silverbell Road Suite 1120.
Monica Silva, an aerial silks instructor of 20 years, said that while performing on silks is
beautiful, there's always a potential danger to it. Surrounded by pooled golden and plum fabric
during a recent class, she shared with students an incident from her first years learning silk when
she fell 18 feet onto concrete after losing her grip. Fortunately, she said, she walked away from
the incident only suffering a few weeks on crutches.
Silva encouraged students to pay attention to their gut instincts, breath and hand grip as they
deliver the initial signs of a necessary dismount, being careful to not let the more intricate moves
take priority over doing what's right for your body.
"You don't need any level of skill or strength. You can perform exactly where you are," Silva
said.
This semester, club members have the opportunity to perform in a December showcase with
Circus Sanctuary for an additional fee.
The club hopes to integrate more on-campus workshops this semester to make it accessible for
students without cars. Some workshops could include chair dancing, heels, floor work and
flexibility.
You can find AZ Pole and Aerial on Instagram @azpole.aerial.