Rachel E. Simmons, El Inde Arizona

The Pima County Fair returns to the Pima County Fairgrounds next week with new fair food,
rides and a lineup of concerts that hit every genre.
We have three things we're looking forward to when the fair kicks off Thursday, April 20; it runs
through April 30.
Rides and games
Launa Rabago, the fair's entertainment and marketing manager, says that there are two new adult
roller coasters among the 60 carnival rides that range from kid-friendly Jumbo Flying Elephants
and the carousel to the head-spinning, heart-pounding thrill of Freestyle and Insanity for older
kids and adults.
"We haven't had two adult sized coasters at the fair in quite some time," Rabago said.
There will be rides for you no matter how old you are, there will be family fun from kiddie rides
for children and crazy roller coasters for adults. According to the fair website, there will be two
sections for rides and games, and fabulous food.
Kiddie rides will cost four to six tickets and include rides that mostly take kids in circles to a
preschool-like soundtrack. Thrill-seekers will go for the 10- to 12-ticket rides including the
Konga, a high-flying saucer ride on a rotating pendulum that flips and twists you as it shoots
more than 130 feet in the air. The ultimate thrills will set you back 16 to 30 tickets for Insanity,
Mach 1 and Titan – rides that boast speeds of 4G and heights of more than 200 feet.
"The Pima County Fair carnival midway offers fabulous fair food and nearly 60 different
carnival rides and almost 50 midway games," according to the Pima County Fair website.
Concerts
There will be a mix of music for everyone from rap and hip-hop to classic rock and classic
country, with a little Latin rock in the mix Admission is free with paid fair admission, although
you can pay extra for a reserved seat.
American rapper Lil Jon opens the fair's concert lineup at 8 p.m. Thursday, April 20.
Stephen Pearcy of Ratt, Great White and Slaughter lead the '80s Rock Invasion on Friday, April
21.
Country singer Joe Nichols headlines April 22.
Rap and hip-hop with Ginuwine, Ying Yang Twins and Paul Wall takes over April 23.
Country-leaning rocker Uncle Kracker headlines April 24.
Country singer Lee Greenwood is on April 25.
Contemporary Christian music singer- songwriter Jeremy Camp takes the stage April 26.
Rapper 24kGOLDN headlines April 27.
California rockers Dirty Heads is on stage April 28.
Country singer Jordan Davis plays April 29/.
The Mexican band Laberinto closes out the series on April 30.
For times and ticket upgrades go here.
Food
As soon as you arrive at the fair you will be met with the smells of fair food, deep fried
everything along with that sweet smell of kettle corn.
On this year's menu are two new items, a CAPTAIN Chicken Sandwich and the Hot Cheetos
Cheese and Pickle Pizza.
Rabago says that the chicken sandwich is a fried chicken breast topped with a honey raspberry
glaze along with Cap'N Crunch Crunch Berry cereal. She compared the sandwich to chicken and
waffles.
"If you like Chicken and Waffles, you're going to LOVE this one!"
The Hot Cheetos Cheese and Pickle Pizza is topped with mozzarella cheese, dill pickles and
Flamin' Hot Cheetos, then drizzled with ranch dressing to finish it off.
"This will change everything you ever thought about pizza," said Rabago.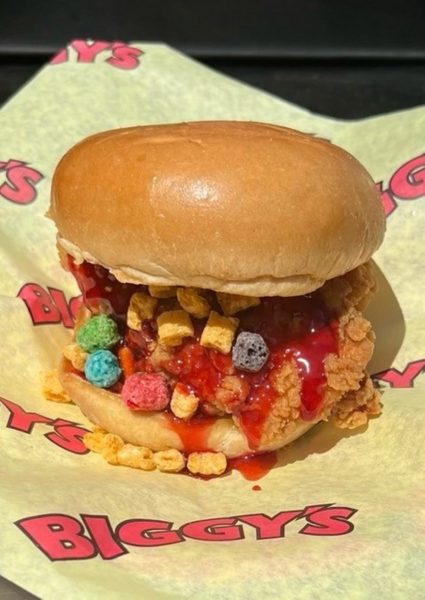 Admission and parking
General admission is $11, $6 for seniors, military and kids 6-10. Kids under 5 are free and
parking is $7. Buy general admission tickets here.
The gates and vendors will open at 3 p.m. weekdays and 11 a.m. Saturdays and Sundays.
"We will not likely close before midnight unless weather or other circumstances causes an early
closure," said Rabago. "It hasn't ever happened in the 25 years I've been here,"