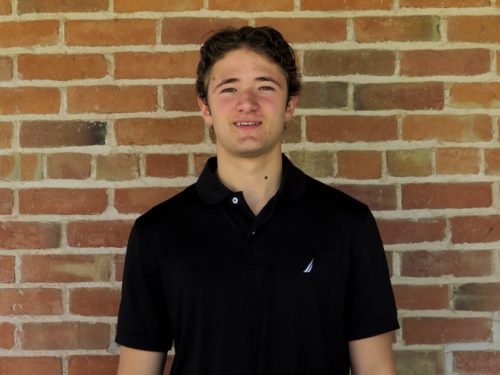 Vic Verbalaitis, El Inde Arizona
Evan Laughlin loves to be right.
Growing up, he often argued with his sister, eagerly attempting to achieve the upper hand. Though the topics of the debates would vary, Laughlin loved the idea of proving someone wrong.
These days, Laughlin's passions are focused on proving something right, and helping further conversations about a new area of science that's gaining a lot of attention.
Laughlin is the founder and president of the Psychedelic Radar, a student-run newsletter at the University of Arizona that seeks to spread scientific knowledge regarding the use of psychedelics to treat mental illness.
As a UA sophomore, Laughlin is studying psychology and neuroscience, and he's learning about the complexities of the mind and the mysteries of consciousness. These fields explore the enigma that is human cognition, but there is one area that remains relatively uncharted: the impact of psychedelic substances on brain function.
Many people write off psychedelic drugs, associating them with the "hippie" counterculture that emerged in the United States during the 1960s and '70s, despite years of promising research that revealed potential advancements in using psychedelics in the treatment of mental illnesses like depression. The classification of psychedelics as controlled substances by the federal government further hindered the potential good that could come from their use in a therapeutic setting.
Now, in the midst of the development of another "psychedelic renaissance," Laughlin wants to prove the naysayers wrong.
Research has shown that psychedelic substances like psilocybin, the hallucinogenic compound contained within "magic mushrooms," and others can make a considerable impact on the brain's chemistry. Through various studies, these compounds have proven to help regulate and restructure neural pathways in the brain, which contributes to negating the symptoms of mental illnesses like PTSD and depression.
"I think the main thing is just that there's an epidemic of mental health issues right now," Laughlin said. "And so it seems that psychedelics might have an ability to move people out of that. It's taking them out of the jail cell and showing them that they can still feel good."
Laughlin's mission with the Psychedelic Radar is to promote and share the knowledge found in these research studies with the campus community, hoping to quash the stigma surrounding the use of psychedelics in treating mental illnesses. With a team of like-minded peers in various roles, the publication aims to clear up the misconceptions regarding psychedelics in a concise, easy-to-comprehend format.
After creating the idea for the publication, Laughlin reached out to the UA's Psychology Department to get the word out to students. Solely through publicity from the Psychology Department's newsletter, Laughlin was able to acquire around 40 subscribers to his publication, as well as some interested students who became essential to the operation of the newsletter.
One of these intrigued students was Em Cuevas, now the chief editor of the Psychedelic Radar. She reached out to Laughlin after receiving notice about it in the psychology newsletter, relating the content of the publication to that of a lab she participated in that concerned research into psilocybin as a novel treatment for Alzheimer's disease.
"I was like, 'This sounds sick,' and I sent him this project I had done two semesters ago that had gotten me really excited about psilocybin," Cuevas said. "We met and talked, and we were on the same page so then we just kind of planned everything out over the phone."
Another instrumental addition to the team is Aysha Smith, the web and graphic design director for the Radar. Smith is a junior psychological science and arts major, and has worked with a variety of mediums as an artist. With experience in painting, sketching and sculpting, as well as a history with web and graphic design dating back to her time in middle school, Smith opted to help out on the artistic side of things for the publication.
Smith hopes to improve the website's functionality and aesthetics in the future, seeking to add other creative formats to the Psychedelic Radar's portfolio.
The Psychedelic Radar released its first newsletter in October 2022, with article topics ranging from the effects of psilocybin to the fallacies concerning the use of psychedelics. The publication has released three newsletters so far, alongside lecture guides and other resources pertaining to psychedelic research.
In the spring, Laughlin said the Radar has moved toward more interactive ways for subscribers and members to get engaged, starting in-person meetings with researchers and scientists who are working on academic research involving psychedelics in medicine.
One of the guest speakers the Radar had during the spring was Dr. Cyril D'Souza, a professor of psychiatry at Yale who researches Dimethyltryptamine, commonly known as DMT, and its efficacy as a treatment for Major Depressive Disorder.
Laughlin hopes to get more people aware of the Radar through the use of social media, with plans of a Psychedelic Radar TikTok account in the near future.
"I think a TikTok account, or something where people can see something important in like seven seconds, and just get it into their heads and start talking about it with other people, that can definitely be very effective," Laughlin said.
The content of the Psychedelic Radar ranges from everything about the science of psychedelic drugs to legislation regarding the criminalization of psychedelic substances, but another important thing that the Psychedelic Radar seeks to acknowledge is the rich historical roots of psychedelic use.
"If we're going to talk about psychedelics, then we have to talk about the cultures that have used psychedelics," Smith said. "And we have to have that respect for them and utilize their knowledge about how to distinctly integrate it into a Western society,"
Smith highlighted the importance of recognizing the historical use of psychedelics in cultural practices dating back centuries. She explained how psychedelic compounds found in plant species were utilized in cultural healing traditions within different communities throughout human history.
Psychedelic Radar's legal evolution team, headed by UA student Kiyan Saissan, stays up to date with significant legislation and recent law changes nationwide regarding psychedelics.
The team anticipates that the next psychedelic substance that could be legalized soon is ketamine, a dissociative anesthetic with short-term hallucinogenic effects that studies from Sorbonne University in Paris have identified as a successful antidepressant treatment.
The club had Jennifer Montjoy, who holds a doctoral degree in biobehavioral neuroscience from the UA, speak with the organization during March. Montjoy treats patients through ketamine-assisted psychotherapy at Resilience Behavioral Health Solutions in Tucson, and said she has conducted over 200 psychotherapy sessions supplemented with ketamine.
"I think when done in an ethical and safe way, (psychedelics) help us get out of our own way… so the thinking mind is moderated and tempered," Montjoy said. "And they're able to access this part of themselves that is empowered, that has agency, that is wise."
With their finger on the pulse of all things psychedelics, the Psychedelic Radar is eager to share its wealth of knowledge with the UA community. And Laughlin is especially excited to prove the cynics wrong.
"If I know these people probably are wrong, especially in an important area like mental health, it makes sense to bring that evidence to the table," he said.