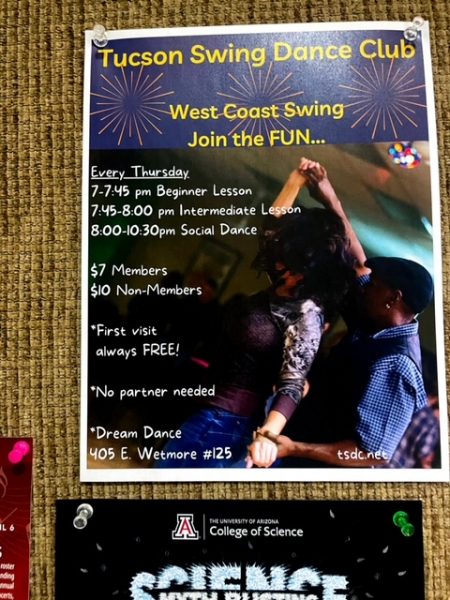 Joseph Flores, El Inde Arizona
The Tucson Swing Dance Club has been posting flyers all over campus, looking to appeal to students from the University of Arizona to join the historic club.
The club meets every Thursday at the Dream Dance studio, 405 E. Wetmore Road. Classes are broken up into three sessions depending on experience level: 7-7:45 p.m. for beginners, 7:45-8 p.m. for intermediate and 8-10 p.m. for social dance, which is open to all members and nonmembers.
The first visit is always free and then it's $7 for members, $10 for non-members.
The club, Arizona's oldest West Coast swing dance club, has been around since 1977, when Rose Marie Burrell started it.
West Coast swing is often paired with blues, R&B and contemporary music and is the smoother, sexier version of classic swing dancing that gained popularity in the 1950s.
"West Coast Swing evolved from Lindy. A lot of people don't know that African Americans created Lindy Hop, created West Coast swing," said Zo Carroll, 69, the Tucson Swing Dance Club president and a U A grad. "West Coast swing came out of that era (1930s), but people in West Coast swing didn't want to dance to big band music. They wanted smoother music, music that wasn't as bouncy."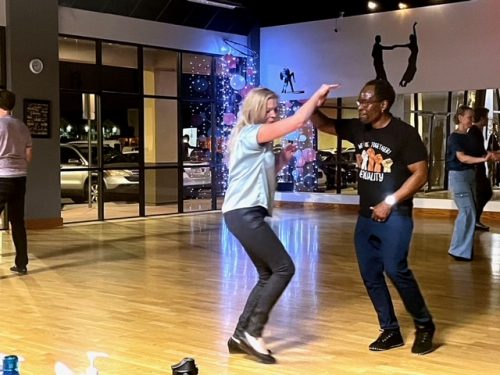 The Tucson club plays music of all genres, from contemporary pop artists including Khalid, Bruno Mars and Billie Eilish, to older artists including Fleetwood Mac, The Beatles and Jackson Five. This variety of music is suited to attract dancers of all ages, organizers said.
Rosanne Crago, 69, has been a member of the club for 22 years and is also one of its DJs. She listens to new music every day to ensure a mix that is familiar with most people, as well as new music to appeal to all ages.
The average age of Tucson Swing Dance Club members is between 40 and 50, but the club is hoping its campus appeal will bring in younger members.
"We want to get more people involved in the dance. If you go to one of our conventions, sometimes 60-70% of those people can be under the age of 30," Carroll said. "It just depends on the city you're in. In order to have a really good event, you want a mixture of demographics, ethnicities because then people can see themselves."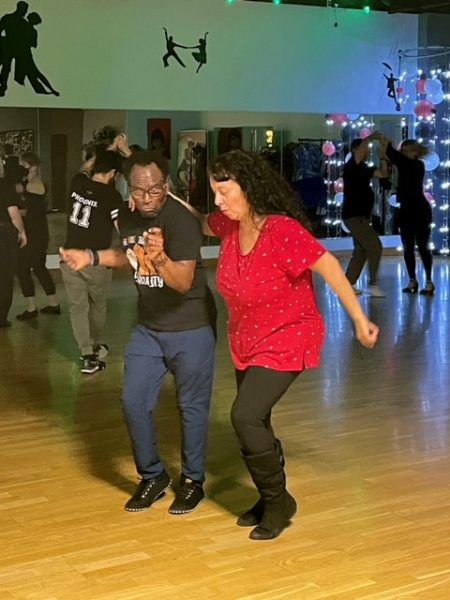 The club does have some younger members, including 25-year-old Griffin Roy. He is a Systems Engineer at Raytheon Technologies and Michigan native.
Roy was looking for a way to get to know people and as a former clarinet player, he was fascinated by West Coast Swing when he saw a video of professionals dancing. He joined the Tucson Swing Dance Club shortly after moving to Tucson in 2019.
"I didn't think that music would be a very easy thing for me to be doing around here," said Roy. "So, I said, hey, well, what's an opportunity to form sort of express art, learn a little bit about myself, and scratch that itch and West Coast Swing just so happened to sort of be perfect for me."
As a younger member of the group, at first, he saw the age difference, as well as the dramatic difference in experience that most of the members had on him. Some having over more than 15 years of experience in the dance. However, he soon found that the club was very welcoming and hopes many more young people will join.
"I hope that people seeing flyers like this aren't intimidated by the fact that, oh, it's just going to be a bunch of older people, because a lot of the fun is that everybody brings something to the dance," Roy said.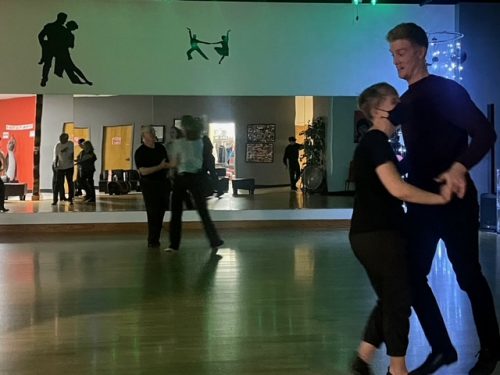 The club has had many UA alumni attend events and also has done events with the UA Swing Cats. Tell me what this is.
The club is hoping to gain more dancers from campus to carry on the dance form for future generations to enjoy.
"We want to attract younger demographics because if you don't have young people, you don't have anyone to carry the dance forward," Carroll said.