Vic Verbalaitis, El Inde Arizona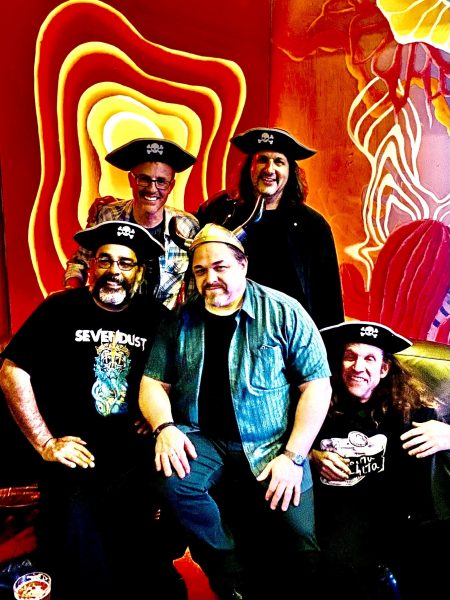 Not too many bands can say they received a cease and desist letter from the quintessential children's author Dr. Seuss.
But for Tucson jam band Funky Bonz, that was only the beginning of their 30-year career, one they intend to celebrate with a series of upcoming performances.
The band's first song  together was "Eggz of Green," a funky jam track whose lyrics were inspired by Dr. Seuss's children's book, "Green Eggs and Ham." Frontman Brent Kort reached out to Seuss's publisher asking for permission to use the lyrics, but received a cease and desist letter in response. 
The band responded by wearing  "Cat in the Hat"  hats during performances, and Kort would pull out and read parts of the letter during the breakdown section of "Eggz and Green."
That was the beginning in 1993 and while Kort is still behind the mic, Funky Bonz has undergone a slew of lineup changes over the years. The five core members today include Kort, Doug "Hurricane" Floyd on guitar, Tom "TK" Kennedy on saxophone, Mark Lee on bass and Mike "Heff" Hoeffner on drums.
Kort said the band couldn't initially decide what direction it wanted to pursue musically, but the addition of Kennedy on saxophone helped solidify the group's sonic vision.
"We brought in the sax and that literally kind of defined the direction we were going as soon as we put the sax in there," Kort said. "We didn't know if we were going to be metal, we didn't know if we were going to be like Red Hot Chili Peppers, hip-hop, reggae. But when you stuck that sax in there, it kind of meant you could do a melange, you could do a bunch of different kinds of sounds."
Inspired by acts including the Grateful Dead and Fishbone, Kort noted the spontaneous nature of the Dead's live performances and Fishbone's ability to mesh between different genres influenced his interpretation of Funky Bonz's musical style.
"The whole idea that no song, no set, is ever the same. No song is ever played the same twice. I love all of that about (the Grateful Dead)," Kort said. "Fishbone, that they could genre hop like they do, so much energy. Those are my two that combine (the) best for what I overgeneralize Funky Bonz to be, but I'm sure everybody else has different ideas."
The band's discography features both original compositions and covers alike, with energetic jams like "We Want the Funk" paying homage to funk legends, while tracks like "Babalooloo" showcase Kort's songwriting chops.
Kennedy noted that the members' friendship is a key reason for the group's longevity; they view their gigs and tours as "subsidized vacations."
"We love what we do, but we always want to find something new," Kort said. "This is a hobby, it's for fun. There's no delusions of grandeur here."
Over the last three decades, Funky Bonz has opened for and played alongside Parliament/Funkadelic, Slightly Stoopid, Bootsy Collins and AWOLNATION among others. They have experienced the Tucson music scene as it evolved over time, with different acts coming and going and different genres taking the spotlight.
David Slutes, entertainment director for Hotel Congress and lead singer of Tucson band Sidewinders (later known as The Sand Rubies), praised Funky Bonz's consistency and its ability to remain sonically relevant over such a long period of time, something most bands are unable to do.
"There are very few bands that persist and continue on as long as they have," Slutes said. "But if you think about the thousands of bands that go through, Funky Bonz continued to fight through it, and they're always such a solid act."
To celebrate their 30th anniversary, Funky Bonz will be playing alongside Warsaw Poland Bros at the Yucca Tap Room in Tempe on Friday, Feb. 3, and at The Hut on North Fourth Avenue on Saturday, Feb. 4. Kort said they also have plans for a show at the Monte Vista Cocktail Lounge in Flagstaff on March 31 and an April 1 gig at Ska Brewing Company in Durango, Colorado.
"It feels great that it's still going. It's a worthwhile thing," Kennedy said. "We really study the art of how to move people. We've always kind of had this niche, you know? We're always trying to solo our (butts) off."
If you go
What: Funky Bonz 30th anniversary concert
Featuring: Warsaw Poland Bros.
When: 8:30 p.m. Saturday, Feb. 4
Where: The Hut, 305 N. Fourth Ave.
Cost: Free
Details: facebook.com/FunkyBonz
Sources:
Brent Kort

In-person interview
(520) 991-4825

Tom "TK" Kennedy

In-person interview
(520) 780-9646

David Slutes

Phone interview
(520) 247-4141