By Geraldine Espinosa/El Inde
It is the first chilly evening of the year and as the sun goes down over the
mountains on Tucson's Westside, the Snakebite gallery is coming alive with Chip Thomas's art.
Snakebite is located inside an older brick building with the street-facing
wall painted bright red. The building is back-to-back with the Tucson City court; the contrast between the little humble red building and the five-story tall, piercing white city court is reflective of the wave of redevelopment that is currently taking place all over downtown Tucson.
Rachael Rios and Geneva Gluck Foster, owners of the Snakebite, stand in the doorway. Rios and Gluck contrast each other perfectly. Both smaller in stature, Gluck with her vibrant curly brown hair and Rios with her straight, split-dyed black-and-blonde hair pulled back into a high bun on the top of her head.
They stand shoulder-to-shoulder and Rios' tattoo on her temples dance across her face when she smiles at friends, family and fellow artists as they walk into Snakebite. The gentle hum of crowd noise fills the atmosphere as everyone congratulates Rios and Gluck on yet another successful opening night.
Gluck is an artist from Snowflake, a small town in northeastern Arizona. She had a unique upbringing: her parents were hippies who lived freely off the land. Gluck knew from a young age that she always wanted to be an artist. She calls herself a performance artist who entered the world of art through dance and "then expanded that to making objects that interacted with my body," she said.
Gluck performed acrobatics and rope for 20 years as she worked and traveled around the world doing contemporary circus. The circus was her main career and source of income throughout her 20s and 30s. After her time in the circus, she came back to Arizona in hopes of sharing her experiences with those in her community.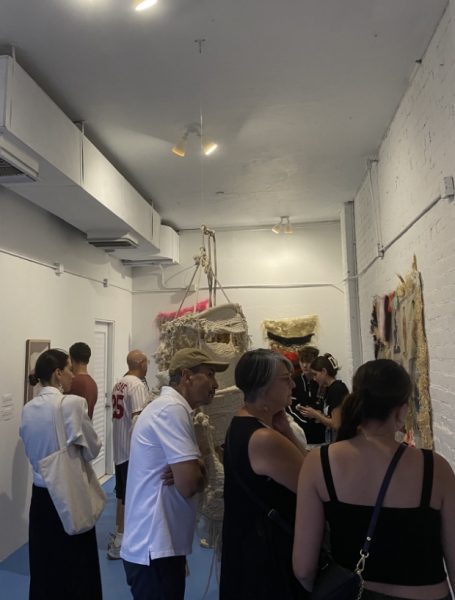 She recalls meeting Rios at the old Downtown Performance Center. "I remember seeing Rachael in the parking lot, and she just looked so cute yet she had such a bad attitude," she said. "She was such a bitch and it was just like, 'Oh, my God' who is that girl? She looks awesome."
Rios is a local artist who has dabbled in all types of media since the beginning of her career. She has murals all over Tucson; her newest lives on the front wall of Roskruge Bilingual K-8. She has created and experimented with 2D art as well as 3D art and dance.
She paints and draws pictures that reflect herself and her surroundings. A lot of her art shows imagery of the desert: coyotes, cacti, jaguars, flowers. She often depicts the women in her art with long dark hair, usually interacting with the desert.
Rios has experimented with embroidery and even mask-making. In 2020, close to the beginning of the COVID-19 pandemic, Rios received a lot of attention on social media when she began sharing on Instagram a series of face masks that she had made from items found in her home. Some of the masks were made out of mushrooms, ice, flowers and tampons.
She's from Menlo Park on Tucson's Westside, and her artistic sensibilities come from her family and community. Tattoo magazines, murals and tileworks on Tucson's Westside were Rios' first exposure to art. She remembers looking at her father's lowrider magazines and trying to replicate the tattoos that she saw there by copying them on her siblings with a ballpoint pen; she remembers doing so when she was about 9 years old.
Rios was raised by her single father. They didn't have much money and the Rios family would thrift for clothes.
She credits her creativity to her childhood thrifting days and learning to make a lot out of very little. "I think that necessity builds creativity, you know? Like you become a super creative cook when you don't have a lot of ingredients," she said.
She focused on making 2D art such as graphite drawings all throughout high school before shifting to performance art in the early '90s.
"I started doing performance art and kind of stepped away from 2D work a little bit. I think a lot of that had to do with I wasn't seeing art that I liked, I didn't feel very inspired," she said.
When she became pregnant with her first child, Rios' partner at the time, Albert Chamillard, who is also a 2D artist, was able to help her. She felt that she reaped some of the benefits of his academic training in art school. "To have somebody look at something that was a drawing and me being like, 'Why does this look weird?' And then being able to look at it instantly and be like, 'Well, it looks weird because of this and this,' and me being like, 'Ooh, yeah, yeah.' So it felt like it was almost school for me," she said.
Rios and Chamillard broke up in 2019, and she grieved that loss openly
through her art. She said, "In my opinion, myself and my human experience; there's no choice [to be an artist]. We don't choose it. It sometimes feels frustrating and like you wish you could just exist normally, but it oozes. There's no separation."
Rios at this time was displaying a lot of her art online. Being in the middle of the COVID-19 pandemic she found a community online, specifically on Instagram. In 2020, the year following her breakup, Rios moved into a new house equipped with a shed in the backyard that she wanted to turn into a mini gallery called Cunt Tent.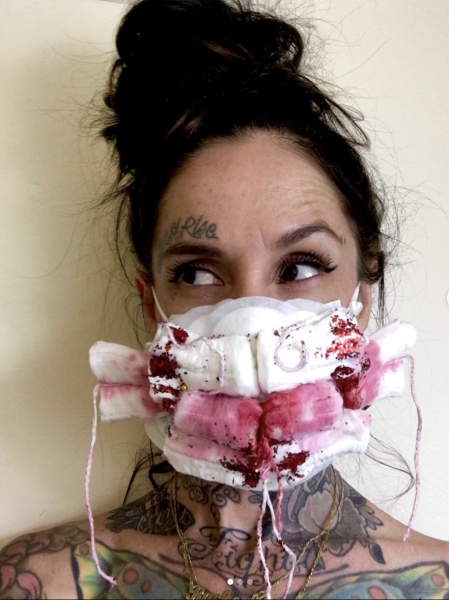 "It was gonna be amazing," she said. "I started building the shed out to be a little gallery space because I was super frustrated with being in Tucson … I was feeling like the only art shows that I was going to were the same kind of inaccessible, older white dude's environment."
Rios' motivation for this DIY gallery was very much centered around the
community of artists around her. "I have so many friends and so many people that make rad art," she said. 'Imagine if I just had a place to show?' she asked herself.
One idea behind having a gallery space was to completely eliminate the practice of monetizing art. She wanted to create a space for artists where they do not have to focus on selling art; she wants the focus of her gallery to strictly be showing the art itself.
Rios envisioned the artists who are featured in the space to repaint walls, play music and basically do anything to make the gallery experience one that the audience can be fully immersed in. She wants the gallery space to embody the art that is being shown, and not be just a lifeless vessel.
While continuing her renovations on Cunt Tent, Rios and Gluck were
simultaneously looking for a studio space to work on their performance art.
Rios' first attempt at renting a studio workspace was not successful. A friend on Facebook sent her a link to a space that had become available, but it quickly disappeared.
"I was bummed, I was like, 'Okay, maybe it's not meant to be, whatever,'" said Rios. After the minor setback, her long-time acquaintance, Steven Eye of Solar Culture, reached out to her to tell her that he had a space available. Rios and Gluck went down to see the space and they decided to rent it.
Rios said, "I was like, 'we can do this for a couple of months and see how it goes.' So really, it was opportunistic…Just seizing the opportunity to have this space, which felt too nice just to be a studio space for us to work at."
Thus, Snakebite was born. Since they opened their doors in August Snakebite has hosted four artists for exhibits.
As far as what is next for Snakebite, Rios and Gluck are on a month-to-month lease, taking it day by day, exhibit by exhibit.
"The reality is that if I can't get it to be self-sustained at some point, I can't do it. So right now we're really just thinking of it as a pop-up. We have stuff booked out until (this) December. And then we'll reevaluate and be like, 'How can we do this?'" said Rios.