By Savannah Hughes/El Inde
I sat low in my squeaky metal chair and rested my elbow on the wooden ledge as I patiently waited for the clock to strike noon. Once the bell rang, I sprang to my feet and rushed out the door into the crowd of students in the hallway. My senior spring break had begun. But without my knowledge, my college career had ended.
It happened within a matter of days; starting with emails from administrators at the University of Arizona, to the countless updates from professors.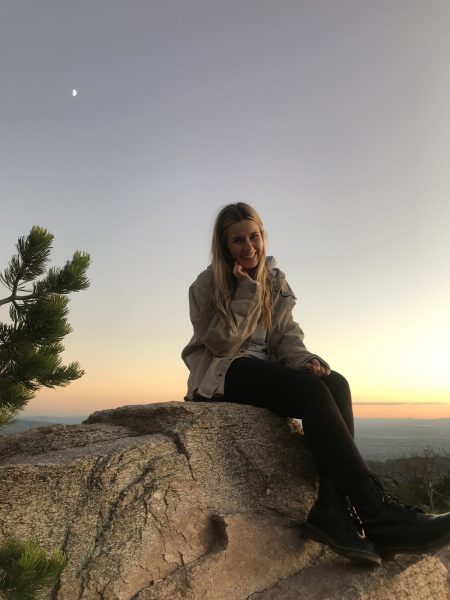 Sitting outside my friends' home in LongBoat Key, Florida, I clenched my phone and felt the confusion start to settle in. How long will this "break" last? Will I go back to school? What is going on?
Then it happened.
Classes were moved online for the rest of the semester. I could feel the lump in my throat as I read the words out loud to my friends while sitting outside under a palm tree.
Two days later I flew home to Chicago where the weather seemed to match my reality: gloomy. I was still processing the fact that my senior year was over and my new "normal" consisted of being stranded at home.
Fast forward to a month later: I have returned to my Tucson home to enjoy the last two months I have left of living in the desert.
Everything is different — from going to the grocery store to picking up food from Time Market, my favorite sit-down restaurant. It is all a strange feeling, as if I am in an episode of the show Black Mirror.
While Tucson is still bright from the desert sun, the streets seem dark. The busyness of the spring semester is gone. There is something sad about living in my college town without school in session. The transition to this new reality has been difficult. At the moment, my future is on pause and my college graduation has been canceled.
Yet while I can feel frustrated at times during this period of self-isolation, I have also experienced a sense of overwhelming peace that comes from the realization that I cannot control certain aspects of my life, even if I tried.
As strange of a concept as it is to accept, I recognize that being lazy and staying at home is the only way this pandemic will end. And the whole world is in this together.
While I have learned a lot over the course of my month-long quarantine, I often find myself missing life's everyday luxuries. I miss grabbing a cup of coffee with a friend before I walk to class. I miss going to a concert to hear my favorite bands play live music. I miss going to a baseball game and feeling the rush within my chest from the fans cheering. I miss going to a restaurant for breakfast and watching the morning crowds shuffle in.
Most of all, I miss human connection. 
While this pause button in life is a time to unwind, I think it is also a time to come back to what really matters — the little moments. Sitting outside under an oak tree flipping through the pages of a new book, instead of penciling in your week's to-do lists. Cooking a delicious dinner for your family and sitting around to eat it, instead of rushing to a sports practice or dance lessons. The freedom of time in the early morning to hear the birds sing to you as you sip your black coffee; instead of running out the door to make it to work.
I am learning to embrace the peaceful moments where life seems at ease. I am learning to find the calmness within this chaos. While I can't choose what will happen tomorrow or how long this quarantine will last, I can choose how I react. During this time of uncertainty, I am trying to remain optimistic and keep busy. When I get frustrated with the state of the world, I remind myself that this is temporary and life will go back to normal one day.
But when that happens, I think it will be a different kind of normal. Unfortunately, I predict social distancing will remain a way of life for a while following this pandemic. And after it's over, I hope people appreciate the outdoors with a sense of freedom and can embrace the crowded streets once again with a sense of patience.