By Phillip Bramwell/Arizona Sonora News
A broad-shouldered woman standing 5-feet tall, wearing a black shirt and blue yoga pants stands, locks her knees in a bent position, and brings both fists to her face. A hair bun keeps her blonde hair out of her eyes. She rapidly alternates her hands as she punches the air in front of her nose, focusing on correct technique. Twenty-nine-year-old Elizabeth McMullin has her eyes fixed on the posters of successful MMA fighters on the wall in front of her.
She begins her day working without a coach or a training partner, and focuses on keeping a productive mindset. A full day of one-on-one training, group class participation, and group class instruction is ahead as the clock approaches 9 a.m. inside APEX Mixed Martial Arts, in Tucson.
Professional fighters train alongside McMullin, but her gym also offers group classes for amateurs who want to socialize or exercise. The training area is a revolving door of arrivals and departures. McMullin prepares to participate in a class, for now, only as a student.
She steps onto blue padded mats and sits with straight knees for a warm-up stretch before joining a class run by Joey Rivera, owner of APEX and McMullin's head coach. Once the class starts, Rivera calls for shadow boxing. Then, people break into pairs and take turns holding pads for each other. McMullin partners with Nicole Rivera, her coach's wife. McMullin, the only professional participant, holds a size advantage over Rivera, but using her quickness, Rivera holds her own.
McMullin is a professional mixed martial arts fighter, which means she gets paid by fight organizations and she has to approach businesses about sponsorship opportunities to cover travel expenses. She has no wins and one loss. She struggles to find fights and earn a livable wage because there are not as many women in the sport compared to men.
"I walk around between 165-170 pounds," explains McMullin. "As I train for a fight, I will healthily lose 10 pounds through caloric deficit until the week of the fight. The week of the fight, I will lose 15 pounds of water weight with fireworks and silliness."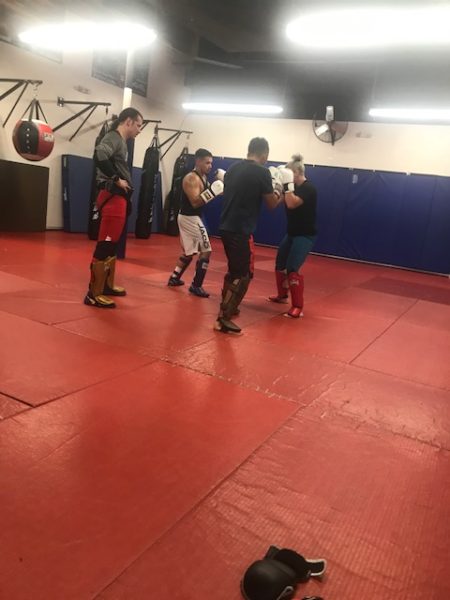 She receives a small stipend to enter the cage on fight night and earns a bonus for a victory. McMullin trains twice a day, leaving her little time to work a full-time job. She also has experience competing in Muay Thai boxing and grappling bouts.
She typically odd jobs her way to about $1,000 a month. "I would rather be stressed out about money than about work. I feel like it is one or the other for the most part," she says.
McMullin is up by 6 a.m. each morning. She has a 9 a.m. practice until 10, then another starts at 10:30 until 1:30 pm. She delivers food from restaurants to customers to make money until 4:30, when she takes one personal training client a day. McMullin teaches a one-hour grappling class at 5:30 until 6:30. She has a one-hour break where she works at the front desk at the gym. Then, she teaches another group class at 7:30. McMullin usually closes down the gym, and doesn't arrive home until 9 p.m., at the earliest.
But despite how little time she has to herself, McMullin is happy. Before she found her passion in MMA, when she was 16 and living in Salt Lake City, Utah, she lived in a punk rock house and worked as a host for shows performed by traveling bands.
"I was really depressed and really miserable in Utah," McMullin says. "I just went to work at the dog kennel, came home, slept. I didn't have any reason or motivation or goals." "I didn't feel close to any of the people I was around. I just wanted my life to be different. And so, I thought I needed to move somewhere different to make that happen."
As a teenager, the athletic childhood softball player who routinely played on competitive teams with her sister changed into a withdrawn "moody teenager, (who) hung out all the time." McMullin was also struggling to find a community of other gay people, and that's around the time she says she decided to move to Tucson at age 21.
"I didn't see any way to get out of the traps that I kept landing in … Also, I wasn't around any gay people. My friend told me there were gay people here," she says. "I hopped on the train. So, I didn't even have a plan for when I moved here, and I lived in the back of someone's truck until I figured it out."
She had connections to help her settle in faster. McMullin had a friend who planned to move by Friday, the same week, in 2013.
"My family was really mad at me and thought I was naive, dumb, or silly to think I would be able to move like that without a plan," she says. "They were not wrong, necessarily."
McMullin had a sense of urgency to leave Utah. Not only did she want to leave the people and environment around her, but her thoughts became dangerous and she decided she had to leave before she acted on them.
"I slept all the time. I definitely struggled with self-harm or suicidal thoughts, when I was younger," McMullin says. "I was very introverted. I would have never gotten into a fight with anybody. I was an introvert idly full of rage."
Once in Tucson, McMullin realized she needed an outlet to express herself. Her friend had coupons for self-defense Muay Thai boxing classes at a punk rock community center. She enjoyed the physical activity so much, she decided to practice independently. She obtained a Groupon for APEX classes six years ago and never left.
According to MMA Sucka, women's MMA began in the late '90s. Strikeforce was the first major organization to promote it. The Ultimate Fighting Championship purchased Strikeforce in 2011 and signed Ronda Rousey, the first female champion in the UFC. Rousey is a 2008 judo Olympic bronze medalist. Her "nobody-deserves-to-beat-me" attitude caught the attention of UFC President, Dana White, who said previously that women would "never" fight in the UFC.
After the move to Tucson, McMullin says it took her about a year to improve her mindset, but her mental strength gets tested when it is time to fight. "I have to believe in myself, not hate myself and just lay there and get hit. On a grander societal scale, I think about people accepting themselves and caring about themselves," she says. "Not letting other people's bulls*** or labels affect them. They can be who they are and thrive without other people's limiting beliefs of them."
After class, she reveals how she went from a casual class attendee to a professional. She sits on the third step of a boxing ring preparing to lift a gallon jug of water to her lips.
"Once I started competing, I was like, 'This is super fun.' I was obsessed with it. It is one of the only things that has made me feel good," McMullin says. "I feel I am supposed to be doing it and so I keep doing it. I want to test myself all of the time, at the highest level possible. That leads to you being a professional."
Sacrifice is—and will continue to be—a habit as her career continues to develop. Yet her fighting career leaves her with less time to socialize.
"You can no longer be friends with people who don't support your vision. I sacrifice a lot of money. You can't do fun things or visit your mom because all your money goes toward fighting," McMullin says. "The only thing I don't sacrifice is eating. I eat clean, real food, but I like candy. My only vice is Snicker bars."
McMullin's attitude is to compete until physically she no longer can. She says she will stop fighting before she turns 40. But until then, McMullin would never want her coaches to "throw in the towel" as an admission of defeat.
"The fighter is always going to want to fight forever. Sometimes coaches do that to keep their fighter safe. I don't think my coach would ever do that, which I appreciate about him. He would let you go down fighting," says McMullin about her coach, Rivera.
He's sitting behind a front desk displaying merchandise available for purchase, agreeing with his fighter's philosophy.
"No, the fighter fights, lives, and will die by the sword," he responds. "Most of the time, a fighter would rather go down in a fight than have their corner throw in the towel."
According to Rivera, successful fighters have a combination of habits.
"Physicality, technicality, mentality-put those three things together ,and you got yourself a champion," he says.
McMullin leaves the building as 25-year-old amateur fighter, Dorian Ramos, arrives. He was one of McMullin's first training partners. While stretching on a blue grappling mat, Ramos says he is empathetic toward new fighters, and he's used positive reinforcement to develop McMullin's fighter mentality.
He says her conditioning has improved since he began training with her.
"Usually when I roll with women, I could feel the difference in strength and conditioning. She does not get tired. She just goes forward and doesn't stop," Ramos says.
McMullin hopes to fight in a high-level promotion some day, and has her sights on Invicta Fighting Championship, an all-women's organization. To do this, she will have to fight often and have a winning record. Even though a recent fight fell through for her, she continues to train to keep a healthy mindset.
Sometimes, McMullin steps into a back office in the back of the gym to gather her thoughts. On this day, she sits on a folding chair and stretches out her right arm, revealing a tattoo, a family crest with an "A" in the center that stands for anarchy, evidence of her time at the Utah punk rock house.
"We were an anarchist collective," she says. "I would hop on trains and hitchhike. There is a bike chain (on the tattoo) because I rode bikes all the time, until recently." These days, McMullin gets around on a scooter, rather than a car, in order to save money and pay for fight-related expenses. The tattoo reflects a past that McMullin has been eager to leave behind. But since it's stuck on her, she's decided its meaning has changed over time.
"I have a complicated relationship with it. In some ways, punk rock was the first thing I found that brought me a sense of community. Sometimes, I actually hate it a lot. But then, a lot of times I feel it is very reflective of my growth," McMullin says.